Press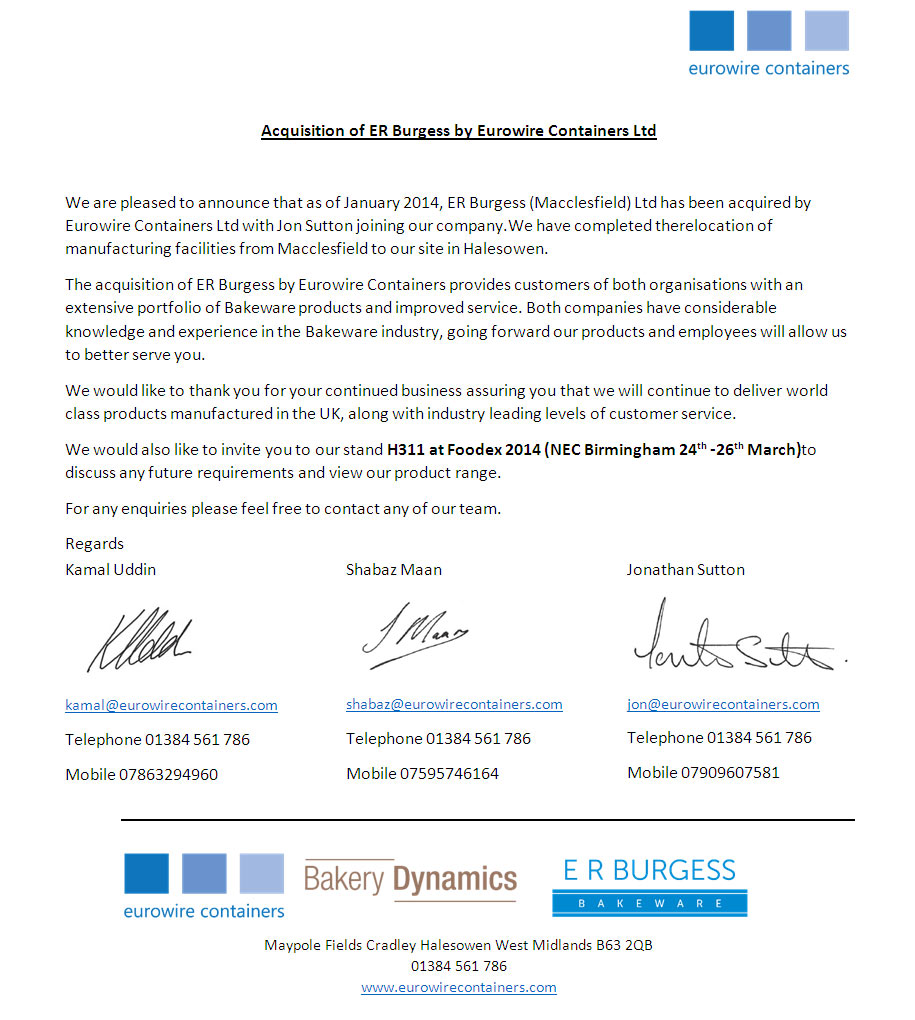 Acquisition of ER Burgess by Eurowire Containers Ltd
We are pleased to announce that as of January 2014, ER Burgess (Macclesfield) Ltd has been acquired by Eurowire Containers Ltd with Jon Sutton joining our company.We have completed therelocation of manufacturing facilities from Macclesfield to our site in Halesowen.
The acquisition of ER Burgess by Eurowire Containers provides customers of both organisations with an extensive portfolio of Bakeware products and improved service. Both companies have considerable knowledge and experience in the Bakeware industry, going forward our products and employees will allow us to better serve you.
We would like to thank you for your continued business assuring you that we will continue to deliver world class products manufactured in the UK, along with industry leading levels of customer service.
We would also like to invite you to our stand H311 at Foodex 2014 (NEC Birmingham 24th -26th March) to discuss any future requirements and view our product range.

For any enquiries please feel free to contact any of our team.

Regards
---

Maypole Fields Cradley Halesowen West Midlands B63 2QB
01384 561 786
Insights into the bakery market
Do you want to know more about the retail bakery market in the UK? British Baker is broadcasting a live web event next month that can help.
Insights into the Bakery Market Report is a FREE live web broadcast that takes place at 2pm, 31 March, featuring top line analysis into the forthcoming paid-for Bakery Market Report.
To register for this exclusive look at bakery trends in 2013, that incorporates our BB75 tracker of bakery retail businesses, just
click here.
The event will feature talks and discussions with:
David Smart, managing director, Greenhalghs & George Fuller, Fuller's
How craft bakery chains are surviving and prospering Mike Holling, executive director, Craft Baking Association
How the Craft Bakers' Association can benefit youChris Brockman, Mintel
Wider bakery trends



Martyn Leek, editor, British Baker & Patrick McGuigan, Bakery Market Report's author

Analysis of the Bakery Market Report
The web broadcast is sponsored by Dawn,Eurowire, Rank Hovis, Tetley and Unox.
If you miss the event as it is aired live there is also the chance to view it on demand, but you need to register first. Martyn Leek, editor of British Baker, said: "The Bakery Market Report is a substantial piece of research by the magazine, which adds to, but also contains, our BB75 tracker.

"To offer some insight into the report to our readers and the users of www.bakeryinfo.co.uk we have decided to open it up to as many people as possible via the web. I'd be delighted if you would join us by contributing questions and giving us your feedback."

To table a question to our panel of experts please email martyn.leek@wrbm.com. To purchase a copy of the Bakery Market Report see here. Please note it will not be published at a later date in the magazine as it has been previously.